Image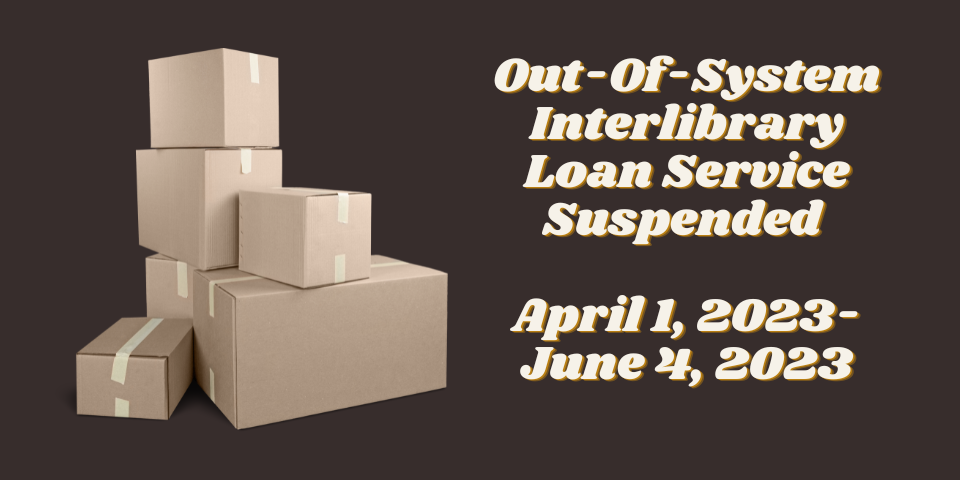 ***The library will be tentatively closed for some time in May to move into the new addition.  As a result, our

 

Out-of-System Interlibrary Loan service (WorldCat requests)
will be suspended April1, 2023-June 4, 2023 to avoid issues with returns and checkouts that would fall during the anticipated closure.  Requests can be submitted again June 5, 2023.***
Policy
If the South Central Library System does not own the material you need, we can send a request to another library that is not in our library system.
Patrons with a valid library card in good standing (no fines, no overdue items) from any of the South Central Library System library can place out-of-system requests.  You must have your library card number at the time you place your request.
Patrons can only request 5 items per week for out-of-system interlibrary loans.  If there are more than five requests, you will be asked to submit the additional requests at a later date, as we cannot keep lists of requests.
Your out-of-system interlibrary loan requests will not appear on your list of Hold Requests in LINKcat.
The loan period for out-of-system interlibrary loans is usually 1 to 4 weeks. The owning library determines the loan period for the item.  Please use the material promptly. Renewal requests should be made at least 3 days before the item is due. A 90-day waiting period is required before we can request the item again.
The yearly limit for requests is 100 per year.
Items are to be returned only to the Carnegie-Schadde Memorial Public Library Adult Services Desk.
Do not return items in the book drop. 
How do I make a request?
There are several ways you can make a request:
Call the Library at 608-356-6166
Stop by the Library and make a requeest at the Adult Services desk
Make your own requests directly in WorldCat.  Contact the Library for more information on how to make a direct request.