Image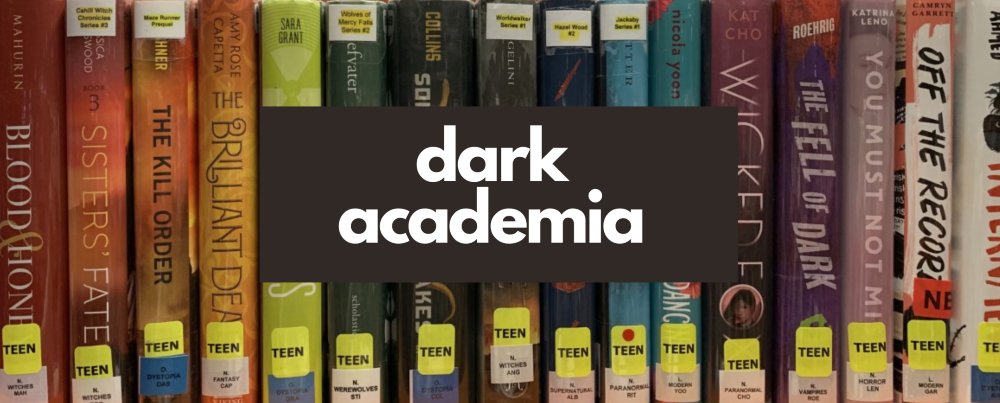 Dark Academia is a popular subgenre that usually takes place in a school or boarding school, and has darker themes. These books are often mysteries or feature some kind of dark twist. Dark Academia has gained popularity on various social media platforms, such as Tiktok and Instagram. The following books fit into this subgenre and are high quality YA literature.
A Lesson in Vengeance is a story about friendship, grief, death, love, finding oneself, all wrapped up in a beautiful little dark academia (my new favorite genre) package. Felicity Morrow is returning to Dalloway School to redo her senior year. She was forced to take a leave of absence after her best friend/ex-girlfriend died the year before. Felicity loves the history of the school, and knows that while it will be difficult, she'd rather be in the confines of her favorite place, Godwin House where she lives on campus, than anywhere else. There are only four other girls that live with her in Godwin House, one of which, Ellis Haley, immediately catches her attention. Ellis is working on her new novel and is fascinated by the history of Godwin House, where five witches all died in mysterious ways a few hundred years ago. As Ellis and Felicity begin to work out how they may have died, they become enraptured in this witchcraft and in each other.

I don't have words to explain my deep and undying forever love for this book. The writing was gorgeous. The characters all flawed, but deeply relatable and well-rounded. The world-building was impeccable. But my favorite thing about this book were all of the literary references all over the place. I took notes as I read of all of the books and authors listed (all female, all fantastic) and plan to compile a "Lesson in Vengeance" reading list and go through all of the books alluded to. Many of them are old favorites and some of them I haven't heard of before, but I'm planning to find copies of all of them to add to my own personal collection. I know I'm not doing it justice but I can't get enough of this book, and plan to recommend it to everyone I know. I finished this book and didn't even realize it was a mystery until I was done with it. That's how good this book was.

CW: This is a book for older/mature teens. There is a lot of underage drinking and smoking (fits in with that dark academia theme), there is death, there is loss of a friend, negligent parents, death of a pet, depression, false memories
Ace of Spades is easily one of my favorite books of the year. It's one of the most important YA books ever written, and I have chills just thinking about it. I will forever recommend and highly endorse this book and throw it at everyone I know and tell them to read it.
This book is Pretty Little Liars meets Get Out. Chiamaka and Devon are the only two black students at the prestigious Niveus Academy, and it is their senior year. Both have secrets. And when the entire school starts to get texts from an anonymous source named Aces revealing secret information about Chi and Devon. Their lives start to fall apart, and they have to do something about Aces before it is too late. I can't say anything else because the reveal is SO GOOD and had me screaming. It was INCREDIBLE.
I just loved this book so much. I have never felt the kind of dread I felt while reading this book. No other book gave me that overwhelming feeling of WHAT THE HECK as I read. It was amazing. Read it everybody. Read it, read it, read it.
CW: Off the page sexual encounters, racist language, and profanity. Ages 14+.
The Witch Haven was a solid debut and series starter. Historical fantasy is so great if it's done well, and I loved escaping into this world.

Frances Hallowell is grieving. Her brother was murdered four months ago, and her mother has been sent to an institution. Frances works as a seamstress, surviving from one day to the next. After her boss assaults her while she's working late one night, her pair of sewing scissors end up in his neck killing him, and Frances doesn't know how they got there. The next day, she is rescued from police questioning by a pair of young women who whisk her away to Haxahaven, a school for young witches. As Frances begins her magical studies, she can't help but be disappointed. She thought her magic would help her make a difference in the world, but she is limited by the teachers who believe that all young women should be learning is how to keep a home. Frances wants to do real magic, not needlework and sweeping. Notes begin appearing on her pillow promising her answers about what really happened to her brother. But as she begins to uncover these secrets, her world turns upside down, and Frances has to decide what she intends to do with the magic she possesses.

Like I said, this book was well done. I loved how Haxahaven was disappointing--so often we get magical schools that are perfect and wonderful, but for a young woman in 1911 to feel boxed in and restricted works so well. It feels authentic. I also really loved the way the author build up the tension and foreboding. As readers, we feel that something terrible is lurking right behind the scenes, and when the plot twists it is awesome. She did a great job. I loved the feminist themes too. I also really loved seeing Frances grow as a character. I do wish there had been more worldbuilding within the school itself, but the setting and characters were great.
CW: Some passionate kissing, and several instances of described murder.
The Ravens is such a perfect book for the fall.
Man oh man, do I wish I could go back, apply to Westerly, and become a Raven! I had so much fun reading this book, and Kass Morgan and Danielle Paige did an excellent job writing it.

This book takes place in Savannah, GA, where Vivi is ready to separate herself from her phony tarot reading mother and finally make some real friends and start her life at Westerly. Once she arrives, she attends the welcome party of the most exclusive sorority on campus, and quickly learns that there is much more to this group of amazing girls than meets the eye: they're witches. And if she's lucky, Vivi will get to join them and not only have real friends for the first time, but harness a power that she has never known about.

Scarlett, a junior at Westerly, is a Raven and witch. She comes from a long line of Ravens, and she hopes to be next year's president. Her life is pretty amazing--she's got the most gorgeous boyfriend on campus, she shares a room with her best friend, and has magical power all her own. But when an old enemy makes herself known and turns Scarlett's life upside down, Scarlett will need the help of all of her sisters to fight the darkness.

I loved this book. I couldn't put it down. I had so much fun reading it. The characters were really well crafted, and the setting was marvelous. This is definitely what I would call YA-candy, but those are some of my very favorite books.
CW: Some sexual content, murder, some gore, recommended for 14+.
Back to the Teens Main Page